From crowdsourcing new treatments for rare diseases to catalyzing the work of city planners, five University of Toronto startups are taking another step towards commercial viability after participating in The Entrepreneurship Hatchery's 2021 Virtual Demo Day.
A total of 17 teams participated in the Hatchery NEST process, an experiential learning opportunity that instills and nurtures an entrepreneurial spirit among participating students and faculty at the University of Toronto.
Over the summer, attendees met potential co-founders, developed their business plans, and connected with mentors who offered support in a variety of areas including market research, branding and securing intellectual property. The program culminated on Demo Day, with teams pitching their startup ideas to a panel of judges, including entrepreneurs and investors – some of whom are themselves former hatchery participants.
The five winning teams will share $ 80,000 in seed funding, which will help their businesses through the next phase of their development.
"Hatchery Demonstration Day is my favorite way to kick off a new college year," says Chris Yip, Dean of the Faculty of Applied Sciences and Engineering, where the hatchery program takes place. "I am always impressed by the creativity, professionalism and energy of these dynamic students, and I look forward to seeing them grow in the years to come.
"On behalf of the faculty, congratulations to all the teams who participated this year, as well as to Joseph Orozco and his entire team at the hatchery for making this possible.
Here are the winning teams for this year:
---
Civvic – AI-enabled web platform for developers and planners
Civvic has designed a web-based platform to bring together all the diverse information required by urban blackouts in one place. (Image courtesy of Civvic)
Planning for new urban development is complex. This requires gathering information on the historical, social and economic attributes of a particular site or neighborhood, as well as liaising with a wide range of stakeholders. Civvic aims to streamline the research process by bringing all of this information together on one platform.
"The process of preparing for the Demo Day has been one of the most difficult and rewarding activities our team has faced," said the CEO. Lewis walker, a former University College student who recently graduated from the Departments of Human Geography and Urban Planning and Urban Studies in the Faculty of Arts and Sciences at the University of Toronto.
"We realized that there is often a gap between what we think is happening and what is actually happening on the pitch. Being willing to learn and able to pivot on the move has been essential for our team. "
Civvic plans to continue developing its online platform until the end of 2021 and is looking to hire new members for its team.
In addition to Walker, Civvic includes recent graduates from the University of Toronto Michelle zhang (urban studies, peace, conflicts and justice, human geography); David from Paiva (urban studies, political science); Khaled Elemam (bioinformatics and computational biology); Patrick thang (Rotman Commerce, Rotman School of Management); and master's student Ian hwang (geography and town planning).
Fovea – Wearable sensors for people living with blindness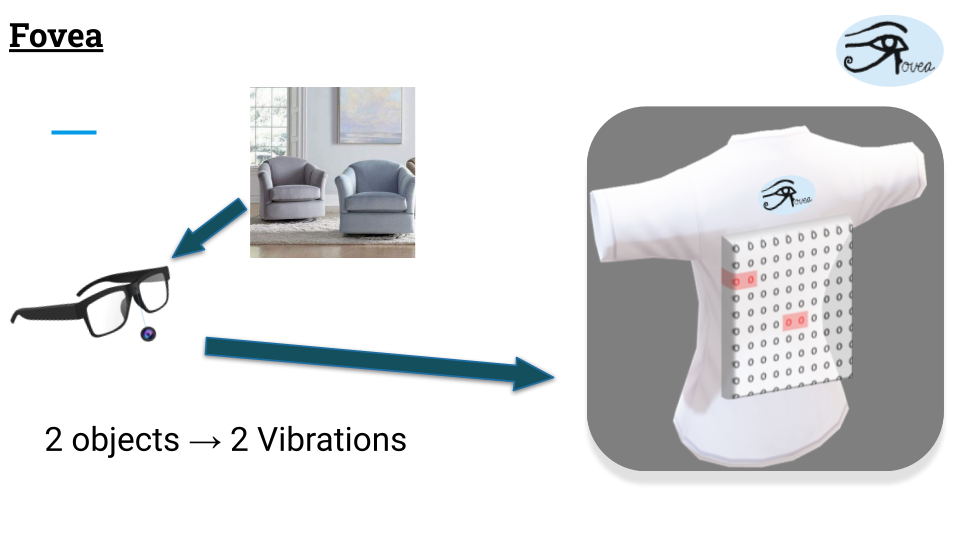 Using a set of 100 coin-sized vibrating motors, Fovea aims to translate visual information into tactile signals for blind people (Image courtesy of Fovea)
Fovea aims to help blind people by translating visual information into tactile signals relayed through a wearable vest.
A set of 100 coin-sized motors are built into the vest, each capable of vibrating based on input from a handheld camera. The system can provide some basic information when entering a room, including the number of objects and their approximate distance from the user.
"We offer an alternative to photon vision to allow blind people to feel their environment in neuro-space, to orient themselves better and to become more independent," says Alaa Shamandy, machine learning researcher at the Peter Munk Heart Center of the University Health Network and member of the Fovea team. "With our non-invasive technology, we are working towards a more accessible world."
Shamandy says the team has developed a rudimentary prototype of the device. They will use funding from The Hatchery to develop a second version and facilitate voluntary testing by people with blindness. They also plan to seek pre-market approval from regulatory agencies such as the United States Food and Drug Administration and Health Canada.
"The Hatchery has been extremely helpful throughout our development – from weekly pitching in front of distinguished mentors and investors, to helping us hone our business models and cash flow, and everything in between. We are in a much better position than at the start.
In addition to Shamandy, Fovea includes: Sai Spandana Chintapalli, a doctoral candidate in biomedical engineering at the University of Pennsylvania; and Kevin Fan, an emergency resident physician at Aventura Hospital & Medical Center in Miami. The company is also considering expanding its team in Toronto.
Nightingale AI – Improving physiotherapy with vision-based AI tools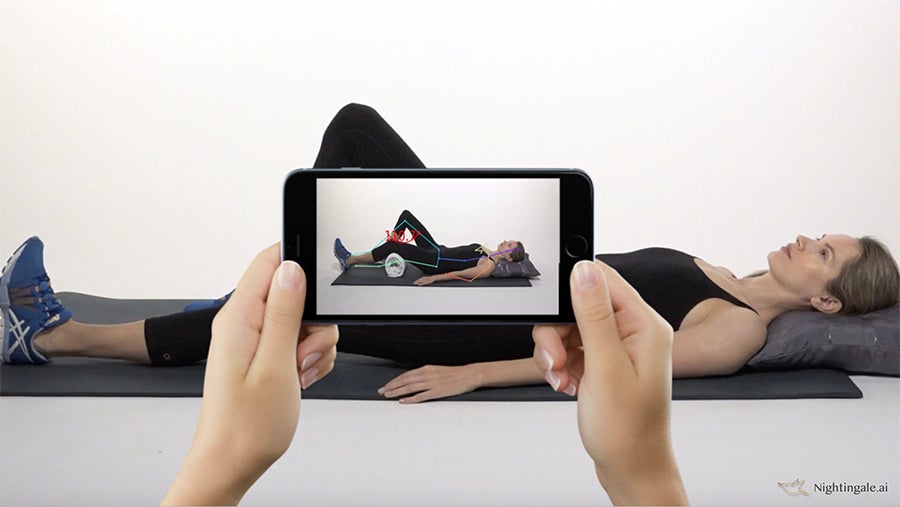 Nightingale.ai connects physiotherapists and their patients remotely, leveraging vision-based AI to analyze patient progress. The goal is to reduce the cost of physiotherapy while improving results, both short and long term. (Photo courtesy of Nightingale.ai)
Nightingale.ai is an online platform that can be used by physiotherapists and their rehabilitation patients after knee or hip replacement surgery. It uses vision-based artificial intelligence to detect and analyze the same types of parameters that physiotherapists look for during in-person visits, including the appearance of the surgical incision, the patient's gait, and the movement of a new articulation.
Using this information, the platform can recommend a treatment plan or schedule in-person appointments as needed. By facilitating more frequent interactions and better communication between physiotherapists and their patients, Nightingale.ai can improve outcomes while reducing the cost of care. It also provides rich data on recovery outcomes that can be used to further optimize care for future patients.
"As a group of clinicians, engineers and researchers who have been working in the field of physiotherapy for many years, we are very familiar with the issues faced by patients and providers during the rehabilitation journey," explains Sameer chunara, CEO of Nightingale.ai and advanced practice physiotherapist and owner of a community clinic in Toronto.
"We were surrounded by a team of advisors who helped us focus on what is really important at this point."
Learn more about Nightingale.ai at the Lawrence S. Bloomberg Faculty of Nursing
The team plans to use the funding they have received to increase their engineering team and continue to develop and test their platform. They hope to have a beta version within the next six months.
In addition to Chunara, Nightingale.ai includes: Donovan Cooper, director of site operations at Altum Health; Assistant professor Charlene chu (Lawrence S. Bloomberg Faculty of Nursing); Meng-Fen Tsai (doctoral student in biomedical engineering), and Chao Bian (doctoral student in biomedical engineering).
ParkinSense – Medical monitoring system for people living with Parkinson's disease
ParkinSense is a medical surveillance system that uses wearable devices to provide detailed, real-time data on symptoms of Parkinson's disease. It can be used to objectively determine the effectiveness of treatment. (Image courtesy of ParkinSense)
Parkinson's disease is a neurological disorder that affects more than 100,000 people in Canada. A common symptom of the disease is a tremor, involuntary shaking movement, or shaking of the hand, leg, or foot.
ParkinSense is creating a monitoring system that can provide continuous, real-time tremor data that can speed treatment of Parkinson's disease patients by enabling more efficient interactions with physicians. It also provides a mobile app that can remind patients when it's time to take their medications, as well as track the effectiveness of those medications over time.
"Having passionate and like-minded people who wanted to see us succeed made the start of our journey very meaningful to us," says Caroline Gorodetsky, pediatric neurologist and movement disorders specialist at the Hospital for Sick Children. "The funding will help us with our prototyping and voluntary testing plans so that we can refine our product and launch it in the near future. "
In addition to Gorodetsky, ParkinSense also includes Akshata Puranik (master's student at the Institute for Aerospace Studies, University of Toronto) and Christophe Lucasius (doctoral student in electrical and computer engineering).
Variant – Crowdsourcing of data on the effectiveness of treatments for rare diseases
People suffering from rare diseases can resort to the off-label use of existing drugs in the search for an effective treatment. However, this is often done in an undocumented manner, which means that the resulting data indicating whether or not the treatment is actually effective is lost.
Varient aims to change that through crowdsourcing. The team has built an online platform that can collect and aggregate anonymized data on treatment effectiveness from groups of people all living with the same disease or rare genetic disorder. The goal is to take the guesswork out of the process, pointing the way to the drugs most likely to be effective.
"Typically, patients with rare diseases rely on word of mouth for information on useful off-label drugs," says Katheron Intson, doctoral student in pharmacology and toxicology at the Faculty of Medicine of Temerty. "We can quantify the success of proven treatments and become a dynamic information provider for these populations. "
The team plans to use the funding to complete full testing of their alpha product, with a launch target in 2022. Intson says the hatchery has provided a valuable bridge between technology and business.
"I've been a scientist my entire working life and the rest of my team is made up of software developers," she says. "The business aspect of starting a business was a real blind spot for us. The hatchery provided us with guidelines that helped us redefine where we focused our energy and effort.
In addition to Intson, Varient includes: Chen Zong Lu (computing); Zuoqi Wang (computing); Jingyi Sun (computing), Shukui Chen (applied mathematics); Yexiong Xu (computing); and Siyang Liu (computing).